Aisha Buhari: Hundeyin, Others Make U-Turn As Aminu's Tweet About Late Deborah Samuel Emerges Online
.
Scores of Nigerians have returned to Twitter to express their regret for calling out First Lady Aisha Buhari over the arrest, assault and detention of a student of the Federal University, Dutse, Jigawa State, Aminu Adamu Muhammed.
Naija News reports that the 23-year-old student had used the microblogging platform to accuse the Nigerian President's wife of feeding fat on poor people's money.
Aminu was arrested on November 8 by security operatives, allegedly led by Usman Shugaga, Aide-De-Camp to Aisha Buhari.
Nigerians have since knocked the First Lady for using her 'powers' to 'oppress' the young man.
.
However, some of the critics of Aisha Buhari have returned online to apologize to the First Lady after a post made by Aminu during an unfortunate incident in Sokoto State, where a Christian lady, Deborah Samuel, was killed by her schoolmates.
Naija News recalls that Samuel was beaten and burnt to death over alleged blasphemy against Islam's prophet Muhammad.
A check on Aminu's Twitter handle [Catalyst – @aminullahie] showed his previous post which reads: "Duk Wanda yasa wannan rigar ah Bauchi sai munchi uwarsa."
.
The post written in Hausa language simply means: "Whosoever wears this shirt in Bauchi will be dealt with him severely."
The said shirt Aminu was referring to carries an image of the late Deborah Samuel.
See the post below:
.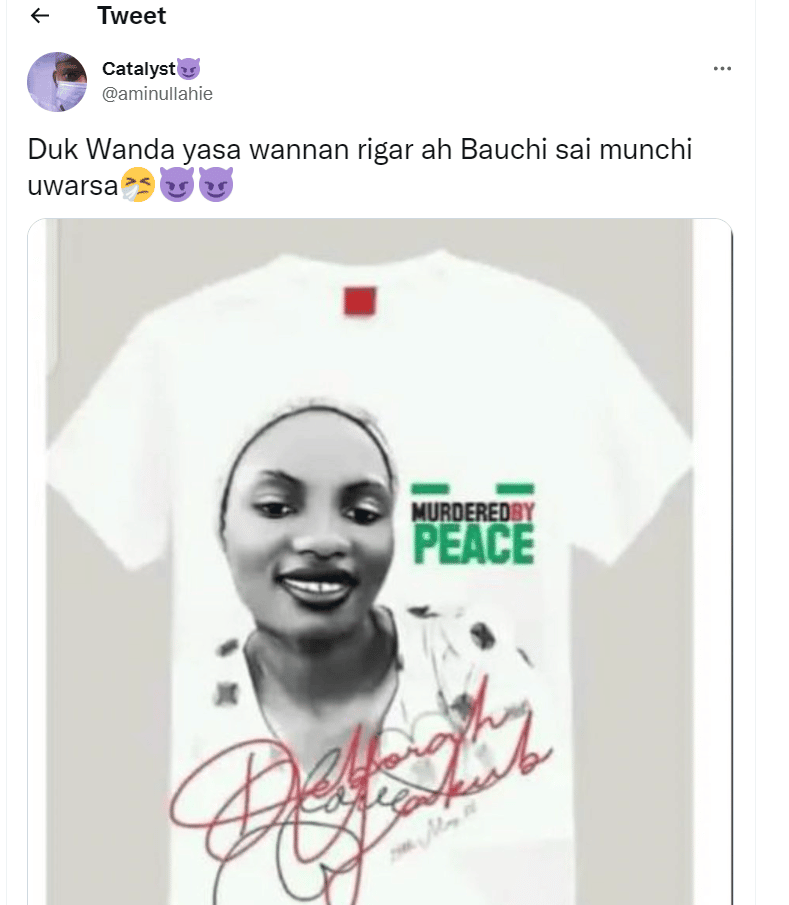 Reacting to the viral post, renowned investigative journalist, David Hundeyin wrote: "I earnestly apologize for retweeting the appeal to free this fellow. May he remain inside that cell for as long as Deborah's family is denied justice, plus some extra time for accrued interest.
"Allah ya kara masa nauyin kasa."
.
See more reactions below:
Victor Ayeni @Ola_ayeni_ – "Wherever you are in that jail, I wish you meditate on two things:
1. Those who rush to defend an infinite God by murdering humans on his behalf are the greatest blasphemers.
.
2. If you put your energies into supporting evil, one day, that evil will pay you a visit.
Duke of Africa @Allezamani – "Wow! So it's even Nemesis catching up with him?
El Vis. @ezelvis70 – "I have been tempted to post something concerning this thing. But something has held my hand. Now, I know why. Let the arewa faithful beg for his release. One part of this country was colonised. One part wasn't.
.
KingOFsParta @o_parta – "Wow so same dude was happy with the fact that Deborah was murdered in cold blood . Lol I'm life what goes around comes around . I hope he fits there.
Gecko Trades @Geckotrades_ "I don finally hear first Lady side, wetin Aminu do first Lady no good
Aminu should be jailed for 600 years.
@BB4PO2023 – "Wow you're in support of this and I've ranting since to #FreeAminu ??? I'm such a f00l.
.
OjiUgø™ @OjiUgo_nwa – "Karma is a bad bish, Aminu just got served.
Mazi Odogwu 1 @StephenGMA01 – "Life comes at you like flash. Where are you brothers and uncle like Adamu Garba now? Not even fellow northerners and Muslim are fighting for you now. Stay safe.
Peter Obi's Charisma @Mene_Adaobi – "Fada Lawd. And we are here, carrying Aminu's case on our head. He might even end voting APC or PDP when he's released. Karma. Please DEAL with him Mercilessly.
.
Nnaemeka @OnyeEnugu – "Seeing this I doubt if I would lend my voice to the release of a man who supported the murder of Deborah."